Some sports bars tend to be watering holes that serve food as an afterthought. Not so at Lester's! Here it's hard to say which is more appealing—the authentic, homemade dishes coming out of our chef's show kitchen or the upscale ambiance of our massive sports bar. Feast your eyes on dozens of HD flat screens as you feast your tastebuds on our mind-blowing, gargantuan New York-style deli sandwiches or fall-off-the-bone tender baby back ribs (smoked four-and-a-half hours). Our dining room is perfect for lunch with the boss or dinner with your family. And Lester's bar is the go-to spot for watching the big game, happy hour mingling or hanging out with friends.
Family Friendly
Lester's casual and friendly dining room is the perfect place to enjoy a meal with the whole family. In fact, we made the Ladue News Best Family Restaurant Platinum List in both 2012 and 2013. Check out our Kid's Menu.
Patio Dining
Enjoy outdoor dining under the giant umbrellas on our beautiful brick patio, weather permitting of course.
HDTVs
If there's a game on—even if it's pay-per-view—chances are it's on an HD screen at Lester's. Thanks to our amazing video system, there's a TV in your sightline from every seat in the house.
(Want to score points with clients from out-of-town? Let us know if their team is playing and we'll make sure the game is on.)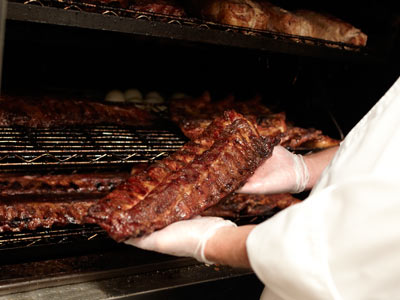 We Smoke Our Own Meats
There are no shortcuts in Lester's kitchen. Everything is homemade, from the salad dressings to the sides. We even brine our own meats and applewood smoke our own barbecue delicacies. Our fall-off-the-bone tender baby back ribs are smoked for four-and-a-half hours, and our beef brisket, home-smoked daily, has enough melt-in-your-mouth goodness to make a Texan green with envy. And just wait'll you try our pulled pork.
Feeding the whole team? Take home Lester's barbecue delights by the pound.
Come visit us soon and bring your friends and co-workers.